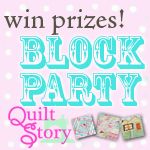 Quilt Story is hosting a Block Party with lots of prizes up for grabs! And it was the perfect push to get a few blocks done up just for me!
This block uses up a bunch of my scraps from
this quilt
which hangs in the front entry of our home. I had so much fun putting all these beautiful prints into one block. I'm hoping to turn it into a pillow cover for my living room, so I can enjoy it every day.
Now go check out all
the other entries
and get inspired!